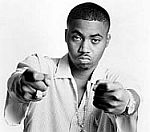 US rapper
Nas
has recorded a song for Barack Obama on the day the democrat became America's President-elect.
The rapper recorded the track, entitled 'Election Night', yesterday (November 4th) while on tour in Europe, his producer DJ Green Lantern told MTV.
"We were at dinner last night talking about how crazy it is that we're not in the states on Election Day," Lantern said
"Someone quoted his verse from 'Black President,' when he said 'What's the Black Prez thinkin' on Election Night?' And Nas said, 'Set up the mic — I'm gonna speak on that.' And the result is 'Election Night'."
In the song, the rapper says he plans to be at Mr Obama's inauguration in January and also pays tribute to the president-elect's Grandmother, who died on Monday.
Mr Obama thanked his family, campaign team and, most poignantly, his supporters at a rally in Chicago last night.
But he sent a warning that with his new title comes responsibility.
(by Jason Gregory)