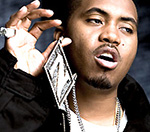 Nas
owes a total of nearly 6.5 million dollars to the IRS, it has been reported.
The rapper has outstanding back taxes of 6.46 million dollars, Rolling Stone reports.
The IRS have filed a 514,298 dollar tax lien at the start of January, which added to the previously unpaid 5.5 million dollar lien.
Nas faces other finical trouble after he has reportedly not paid his monthly child support fees to ex-wife Kelis.
(by Holly Frith)