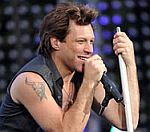 Bon Jovi
are being sued for £250,000 after one of the their entourage allegedly deliberately ran over a woman in a golf buggy.
The incident is said to have taken place during the band's concert at Milton Keynes Bowl in 2006.
Security advisor Sally Allen claims she suffered a fractured knee and ligament damage during the incident, which took place when she was put in a cordon after a fire broke out in a VIP area.
Allen said one of the band's security team, Kevin McDonnell, drove up to her and demanded access, before calling her a "fucking whore".
In the lawsuit, filed at Oxford County Court, McDonnell is then quoted as saying: "Do you know who I am? You can't fucking stop me."
At that point, McDonnell turned his cart at Allen and drove over her right leg, the lawsuit says.
Allen, who claims the incident has destroyed her sex life, is suing the band and their security team for trespass to the person and negligence.
She has previously tried to take the case to court in America.
A spokesperson for Bon Jovi would not comment on the current legal proceedings, according to the Telegraph.
(by Jason Gregory)