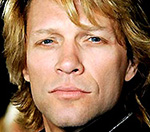 Jon Bon Jovi
is set to star alongside Robert De Nero and Zak Efron in a new film, it has been reported.
The Bon Jovi frontman will join Robert De Niro and a star studded cast including Halle Berry, Jessica Alba, Ashton Kutcher, Michelle Pfeiffer and Hilary Swank, reports Hollywood Reporter.
The film, entitled 'New Year's Eve', tells the story of a group of New Yorkers and the events of their New Year's Eve.
'New Year's Eve' will be directed by Garry Marshall and as yet has no official release date.
(by Holly Frith)