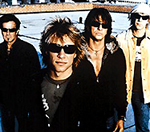 Bon Jovi
are set to headline next year's Hard Rock Calling festival in London, it's been announced.
The band will top the bill on Saturday June 25 in Hyde Park. The event is also expected to take place on two other days.
Live Nation's Toby Leighton-Pope said: ''There is nothing quite like being at a high octane Bon Jovi concert in the summer and their UK fans are in for a night to remember."
This year's festival was headlined by Pearl Jam, Stevie Wonder and Sir Paul McCartney.
Tickets go on sale on November 1 at 9am.
(by Jason Gregory)