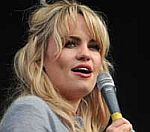 Duffy
has spoken about setting her hair on fire backstage at a
Coldplay
concert in Ohio.
The singer, who was supporting the band last month, said the incident happened just as she was preparing to meet frontman Chris Martin for the first time.
"I was in the dressing room and I had music on and candles alight. I bent down, not realising it was still lit. Then the entire left side of my hair went up in flames," she said.
"At that moment, Chris was walking down the corridor to say, 'Hi'. I hadn't met him before and the place stank of burning hair.
"Somebody came in and said, 'Is someone cooking chicken?'"
Duffy added: "I had black crumbs of hair all down me so I had to give it a chop and pin it back. It was really bad and properly embarrassing.
"Can you imagine if I had gone up in flames? Nightmare. I honestly saw my life flash before my eyes."
Duffy is currently touring in support of her debut album 'Rockferry'.
The singer's next single, 'Rain On Your Parade', is released on November 17th.
(by Jason Gregory )