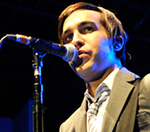 Fall Out Boy
's Pete Wentz has apparently announced the launch of a new electro-pop group.
The bassist revealed the group's name Bl4ck C4rds in a message on his blog.
Posting a link to the band's website, Wentz wrote: "There will be no treasure hunt. Not viral campaign. Just the opposite - next week things will appear on this site in a very controlled distribution."
In an apparent reference to Fall Out Boys' fanbase, he added: "If you enjoy it, keep coming back. If its not for you than we understand."
A snippet of an untitled song is currently streaming on www.bl4ckc4rds.com. At present, the identity of the band's other members is not clear.
In February, Wentz cast doubt over Fall Out Boy's future, but said at the time that he didn't have solo plans.
(by Jason Gregory)