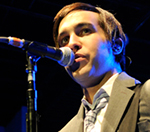 Fall Out Boy
members Pete Wentz and Patrick Stump have cast doubt over the band's future.
In November, the group announced they were taking an "indefinite" break in order to focus on other projects.
But, in separate discussions this week, both Wentz and Stump appeared less certain about the group's eventual return.
"As much as i dont have a solo project, i also cant predict that id ever play in fall out boy again," Wentz wrote on his blog.
"Not due to personal relationships as much as a band we grew apart."
The bassist went on to add that he would be "proud" of Fall Out Boy's legacy if they were to disband.
Meanwhile, in response to Wentz's comments, Stump told Spin he was currently preoccupied with his solo project.
"I'm really not worried about Fall Out Boy," he said. "I'm so psyched about where I'm at right now, recording this solo album."
Fall Out Boy released their greatest hits album 'Believers Never Die' last November.
(by Jason Gregory)