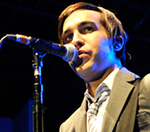 Pete Wentz has revealed that he battled depression following
Fall Out Boy
's decision to go on an "indefinite" break
last year
.
In November, the band announced that they were dissolving in order to focus on other projects.
But Wentz has admitted he found the task of going it alone difficult at first.
"It was so strange," he told Kerrang. "I became this guy in a plaid shirt and grew a depressed guy beard. I was at rock bottom."
Wentz has since formed the band Black Cards, who are set to release their debut album later this year. The gorup have announced details of a UK tour next month.
As well as Wentz, Black Cards also includes the relatively unknown singer Bebe Rex.
(by Jason Gregory)