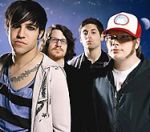 A cover of
Michael Jackson
's 'Beat It' will feature on
Fall Out Boy
's forthcoming live album, it's been revealed.
'****' was recorded at a concert in Phoenix last June and will include a studio version of Jackson's song which also stars a special guest guitarist.
The album, which is the band's first live LP, also features covers of songs by Timbaland and Akon.
A complete DVD of the concert will accompany the CD release and will come with special behind-the-scenes footage of the band.
'****' will be released in America on April 8th.
(by Jason Gregory)