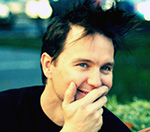 Blink-182
star Mark Hoppus has said the band's decision to postpone their upcoming UK and Ireland tour was "not an easy decision".
On Monday (April 18), the band announced that the jaunt this summer would now take place over the same period in 2012.
In a statement, they said they didn't want to tour until they had finished recording their new album - prompting criticism from fans.
On Facebook, Hoppus said: "I have been reading all of your comments, both here and on my twitter, and to those of you who're frustrated, angry, let down, and incredulous, I feel you.
"I feel the same way. I've had a while to process everything and I'm still bummed. This was not an easy decision for us at all. One of the hardest things we've had to do. Ever. It sucks."
Hoppus explained that the group needed to make new material and thanked fans who have been  "supportive and understanding".
"This needs to be the best album we've ever recorded, and we're working hard towards that goal," he added.
(by Jason Gregory)