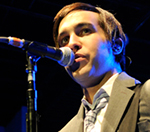 Fall Out Boy
bassist Pete Wentz says the band will no longer play their cover of
Michael Jackson
's 'Beat It' live.
The song, which is included on the group's forthcoming greatest hits album, had become a staple in their stage show.
However, Wentz told MusicRadar that the band had decided to drop the song from their set following Jackson's death in June.
"We kind of recorded it on a whim, like, nine months before he passed away," he said.
"We've decided not to play it any more. It's his song, you know? We put it on the record because we did a video for it, but it's definitely his song."
Fall Out Boy's greatest hits, entitled 'Believers Never Die', is due out on November 16.
(by Jason Gregory)