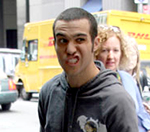 It's the news that we've all been waiting for - the emo haircut has finally been put out of its misery and is now dead.
During Fall Out Boy's set at Madison Square Garden in New York on Sunday night (October 4), Mark Hoppus from headline act Blink-182 came onstage and shaved Pete Wentz' hair off. Hurrah.
Before taking his clippers to Wentz' mop, Hoppus triumphantly announced to the 20,000 strong crowd that the moment was "the death of the emo haircut."
Unfortunately due to the dreaded three song rule, no photos of a shaved Wentz were available from the show, but Wentz was papped in the streets of NYC yesterday.
A marked improvement we're sure you'll agree?
(by Scott Colothan)