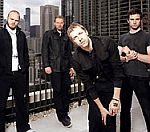 Coldplay
frontman Chris Martin says he has "absolute respect" for the way
Radiohead
and
The Raconteurs
released their latest albums.
Over the past six months, both bands have chosen to challenge traditional release principals – Radiohead allowing fans to name a price for 'In Rainbows' and The Raconteurs dispatching 'Consolers of the Lonely' without a press lead time.
Martin said he had admiration for "people who can do what they like" but added that the band were still happy to be signed to major label, EMI.
"Being on a major label at the moment is like living in your grandparents' house," he told Reuters.
"Everyone knows they need to move out, and they will eventually, but we kind of like our grandmother."
Martin acknowledged that the band were still part of an "antiquated model" but said that they "really love the people we work with."
Coldplay's new album 'Viva La Vida', which is out on June 12th, will be their first release since EMI was acquired by private equity company Terra Firma last August.
The band are seen as one of the label's biggest assets after Radiohead and Sir Paul McCartney chose to leave the company.
(by Jason Gregory)