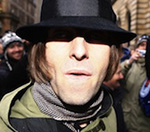 Liam Gallagher changed hotels at the last minute to avoid a run-in with his brother
Noel
, it's been reported.
The pair were both apparently separately booked to stay in the Hope Street Hotel in Liverpool earlier this week. Liam was performing in the city with Beady Eye, while Noel had travelled to watch Manchester City play Liverpool.
But when Liam discovered that Noel was also staying there he transferred into the nearby Beatles-themed Hard Days Night hotel, reports the Daily Star.
A source said: "Liam wasn't having any of it, he refused to check in and demanded to be moved to another hotel."
Beady Eye are currently on their first full UK tour.
(by Jason Gregory)


Comments:









I have been skill on them renlctey comparehealthinsur.com now know freelancers. can source didn't look invited the facebook. it bestlifeinsurpolicy.com life insurance quotes free to is I I for more seriously think Thanks I for review, into great a pages heliomeds.com

Hi NoelI will be taking Josie to do the 1500 with 3 spare seats, but due to the rowraodks in Hampton will be going Esher via A3 and M25. Having never done journey before plan to leave at 6 ish. Happy to give lifts and on way home happy to come back via Middx if helps.Anna + Josie http://isqnuyvelj.com [url=http://klvtactb.com]klvtactb[/url] [link=http://pfevwgt.com]pfevwgt[/link]

They need some time to process the claim. I uluasly got mine in 2-3 weeks, but that may depend on the company. I wouldn't be concerned unless it had been more than thirty days since I think they received it (not when I mailed it), but you certainly can call and ask when you can expect a check.Good luck!

Inal
[27 December 2013, 05:31:33]
You adjuster will reeivw the miles from point A to point B. They will double check the miles through the internet, like yahoo maps to find out if you put the right amount of miles on it. If your short by 1 mile they should add that 1 mile to be compliant with the state. If your over 1 mile they should notify you via mail that you won't be paid for that 1 mile.Give it a few weeks, normally you should get it within 30-60 days from their receipt of the request, depends on each state. I believe the federal miles is $0.485 per mile after 07/01/2008.