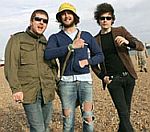 Jon Fratelli, the frontman in the
Fratellis
, has revealed that he plans to record a solo album later this year.
Fratelli said he will begin work on the project once the group have finished touring new album 'Here We Stand'.
Speaking to the Daily Star, Fratelli said: "I'm thinking I'll probably release a solo album after we finish touring this new album.
"It's not a big deal, just something to keep me busy"
'Here We Stand', The Fratellis second album, will be released on June 9th. The album has been preceded by first single 'Mistress Mabel'.
(by Jason Gregory)