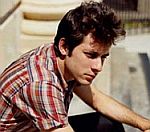 Mark Ronson
has spoken about his involvement on the Kaiser Chiefs as-yet-untitled third album.
Ronson, who is producing the record, said that he has "been helping with the arrangements and the songs and I guess being a sort of guru in the studio or something."
The music producer, who helped created the soul sounds of Amy Winehouse's second album 'Back To Black', admitted that being a fan of the band would help shape the record.
"I'm just a huge fan of theirs so hopefully bringing that energy of someone who's just a giant fan, knowing what a Kaiser Chiefs fan would like," he told BBC 6 Music.
"They've written some great songs so they don't really need me as much as I need them."
(by Jason Gregory)