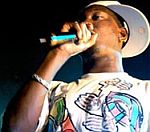 UK rapper
Dizzee Rascal
is to release a new song to help raise awareness of the problem of suicide amongst young men in the United Kingdom.
'Dean' is named after Dean Munroe, a friend of the rapper's from East London who took his own life in 2003.
The rapper said the song was about "not being closer to him, not seeing it".
"He was one of the first people I'd ever known to have died and how he died was a bit of a shock," he told BBC Newsbeat. "I didn't quite know how to feel."
The suicide rate amongst men between the age of 15 and 35 is growing concern in the UK, with about three young men taking their own life everyday.
Proceeds from 'Dean', which is available on iTunes, will go towards the Campaign Against Living Miserably.
The campaign allows young men to address their problems, as well as having a sanctuary to help them "chill out a little".
(by Jason Gregory)