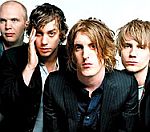 Razorlight
drummer
Andy Burrows
is to auction off the drum kit that he used to record Razorlight's self-titled second album.
All proceeds from the auction, which will take place on the internet auction site eBay, will go to the Naomi House Jack's Place appeal.
The drum kit is also the same one that features on the artwork to 'Razorlight'.
As previously reported, Burrows releases his debut solo album 'The Colour of my Dreams' on May 26th', which will also raise money for the charity.
The drummer will play a solo show later this month in London to coincide with the album's release and will be joined by band mate Johnny Borrell.
(by Jason Gregory)