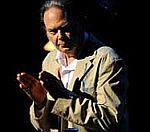 Neil Young
may be about to go back on his word and mix the world of endorsements and music for the release of his new album.
Young is well known for his resentment of artists who put their names to products and famously sung about it on the track 'This Notes For You'.
However, on Tuesday Young and Sun Microsystems are expected to make an announcement about a link up for the release of the album 'Toast'.
According to Undercover, Young has been announced as the keynote speaker at a conference for Sun Microsystems executives next week.
A statement reads: "Neil Young and Sun will make an announcement during the event, and provide a special demonstration of a new multi-media music project. Come hear and see what Java technology means to Neil Young."
We wonder what they are up to...
(by Daniel Melia)