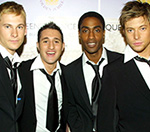 Blue
have accused UK radio stations of failing to support their entry into this year's
Eurovision Song Contest
.
The group reunited to record 'I Can', but the track has failed to make it onto a number of high profile radio playlists, including BBC Radio 2, which is the UK's Eurovision broadcaster.
According to the radio monitoring website myradio.com, 'I Can' has been played just 22 times in a month across the UK.
Singer Simon Webbe told the Daily Mirror: "We're trying to do this for our country and our country isn't backing us."
A BBC spokesman said: "Radio 2 premiered Blue's Eurovision song on the Graham Norton show and has played the song across the schedule where editorially appropriate. It is not currently on the playlist but it may be considered, on merit, in due course."
Eurovision takes place in Düsseldorf, Germany, on May 14.
(by Jason Gregory)