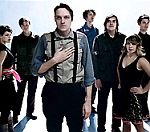 Arcade Fire
will release a deluxe edition of '
The Suburbs
', it has been announced.
The Montreal-based band will release the short Spike Jonze film 'Scenes from the Suburbs' on June 27.
The DVD will include a deluxe edition of 'The Suburbs' with two previously unreleased exclusive tracks recorded during The Suburbs album session plus a behind the scenes documentary of the band.
'Scenes from the Suburbs' was co-written by Spike Jonze, Will Butler and Win Butler.
'The Suburbs' picked up best 'International Album' at this year's BRIT Awards.
(by Holly Frith)