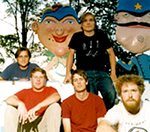 Pavement
's Bob Nastanovich has ruled out the chances of the band recording new material again.
The multi-instrumentalist told Spin magazine that singer Stephen Malkmus was not interested in writing any new songs.
At this point, Stephen [Malkmus] does not write songs for Pavement anymore, or songs in the Pavement mindset," Nastonovich said.
"I think he considers that part of his juvenilia, which is his own prerogative."
Pavement's last album 'Terror Twilight' was released in 1999.
Meanwhile, Nastanovich said he expected the group, who reunited last year for a tour, to play live together again, but played down the likelihood of another full jaunt.
(by Jason Gregory)