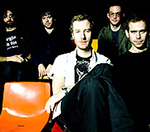 The National
were joined by
Arcade Fire
's Richard Reed Parry as they continued their residency at London's Brixton Academy tonight (November 30).
The multi-instrumentalist, in town for the Montreal band's own arena shows this week, made a number of unassuming appearances throughout the show, including on 'Anyone's Ghost' and 'Sorrow'.
"This is our friend Richie. He's got a little gig at the Barfly later tonight," singer Matt Berninger jokingly told the crowd ahead of Parry's first cameo.
"I'm kidding, Arcade Fire are not playing at the Barfly later tonight."
Playing the second of three dates at Brixton, The National delivered a mammoth 21-song set, which was watched by a crowd that included Editors frontman Tom Smith and Marcus Mumford of Mumford & Sons.
The performance spanned the Ohio band's five albums, and subtly built in momentum as the show progressed, aided largely by songs from their recent top-5 LP, 'High Violet'.
Berninger was also on jovial form, joking about a journalist who had earlier asked them if they were intentionally awkward on stage and the unseasonable snow that had hit the capital.
"If we get snowed in we'll just curl up together," he said before 'Apartment Story'. "Well, we'll be at an awesome hotel, but if you guys get snowed in just curl up together."
Performing in front of a huge video screen, which projected the band's faces, their set also included recent hit 'England', as well as 'Available' from their 2003 album 'Sad Songs for Dirty Lovers'.
Following a brief break, The National returned for a four-song encore, which saw an animated Berninger jump into the crowd and make his way to the back of the venue during 'Mr November'.
They then ended their set with an unplugged acoustic rendition of 'Vanderlylle Crybaby Geeks', which featured a moving crowd sing-along.
The National conclude their residency at Brixton on Wednesday (December 1).
The National played:
The Runaway

Anyone's Ghost

Secret Meaning

Slow Show

Squalor Victoria

Afraid Of Everyone

Bloodbuzz Ohio

Lemonworld

Available

Cardinal Song

Conversation 16

Sorrow

Apartment Story

Abel

Daughters Of The Soho Riots

England

Fake Empire

Lucky You

Mr November

Terrible Love

Vanderlylle Crybaby Geeks
(by Jason Gregory)