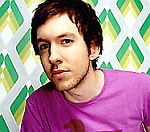 Calvin Harris
has said that he has no plans to sing live in the future and that he wants to focus on work with other artists.
In an interview with the Herald Sun, the producer conceded that he was "not a singer" and still found it hard performing in front of an audience.
"I got much, much better at it but I never lost the terror," he said, adding that his priority was now his DJ career.
Harris has released two studio albums - 2007's 'I Created Disco' and 2009's 'Ready For The Weekend'.
He said he still wanted to continue his work as a producer but wasn't sure if he would stick to the same format.
"I'd sooner release songs as I go," he said. "I don't think an album format will work for me again."
Harris has built a strong name for himself on the festival scene and played a central role in creating some of Dizzee Rascal's biggest hits, including 'Dance Wiv Me'.
(by Jason Gregory)