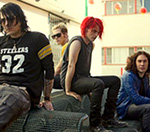 My Chemical Romance
are set to premiere their anticipated new album '
Danger Days: The True Lives of the Fabulous Killjoys
' online later tonight.
The Webcast will be hosted by Dr. Death Defying and go live at 8pm UK time on www.mychemicalromance.com.
The band's new album, 'Danger Days: The True Lives Of The Fabulous Killjoys', is due to be released on November 22.
The album is the follow-up to the group's 2006 effort, 'The Black Parade'.
Part two will be available in the coming days.
(by Holly Frith)