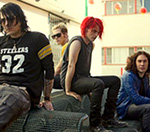 My Chemical Romance
star Frank Iero has said the band might consider releasing their scrapped album after they split up.
Last year, the band revealed that recent album 'Danger Days: The True Lives Of The Fabulous Killjoys' had taken two attempts to make, and that the first had been cast aside.
But in an interview with Rockaaa.com, Iero said he hoped the album could be released in the future.
"At some point it would be nice for some of them to see the light of day but there is no plan for that at the moment," he said. "Right now they are just for us but I actually did have this idea when we were making the record.
"I said 'I have this great idea that we should record two records and release one and put the other away in the vault so when the band breaks up so it would be the last MCR record ever'."
My Chemical Romance recently completed a UK arena tour in support of 'Danger Days...', which was the follow-up to 2006's 'The Black Parade'.
(by Jason Gregory)