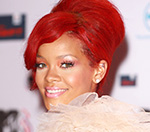 Rihanna
has spoken highly of British artists, revealing that she is a big fan of Ellie Goudling and
La Roux
.
The singer, who listens to British radio in her hotel room, also said that she wanted to work with Depeche Mode.
Rihanna told The Sun Goulding as a "one of a kind", adding: "Her voice is unbelievable. Even if she just writes for me, I want to work with her somehow."
She continued: "When I'm here I just put the music channels on all day long so I can see what's happening, what I like.
"That's how I found out about Amy Winehouse before she came to America. And La Roux, I love her."
Rihanna, who recently said she wanted to work with Cheryl Cole, releases her new studio album 'Loud' next week.
The follow-up to 2009's 'Rated R' includes collaborations with Drake, Nicki Minaj and Eminem.
(by Jason Gregory)