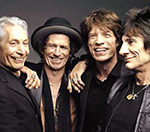 The Rolling Stones
are to release two limited edition vinyl box sets, which package together their 23 studio albums.
The two releases also include the band's EPs and range from their debut EP 'The Rolling Stones' to their most recent album, 'A Bigger Bang'.
The remastered box sets will be released on November 22.
Meanwhile, Rolling Stones guitarist Keith Richards is set to release his autobiography, entitled Life, later this month.
Richards has revealed during promotion for the book that he offered drugs advice to Amy Winehouse and Pete Doherty.
The tracklistings for each box sets are:
1964-1969:
1971-2005:
(by Jason Gregory)