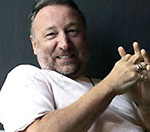 Peter Hook
has said his former Freebass bandmate
Mani
made a "huge mistake" when he launched an
attack against him
on Twitter.
In a series of posts earlier this month, the bassist accused Hook of living off his former Joy Division band mate Ian Curtis' "blood money".
His comments came in the wake of Freebass' split.
Hook, who has since received an apology from Mani, told Q magazine he had "heard worse".
"I really don't know what prompted that," he said. "We were just two big personalities going for one leadership role and he got pissed off by that. He made a huge mistake and I didn't want to rise to it."
He added: "I did that too much with New Order and people don't like it, neither did I in the end. What Mani will come to realise is that he is going to have to live with what he did forever and he doesn't need me rubbing his face in it. I'm his friend and we've gone through too much together."
In an official statement in the wake of his comments, Mani admitted the Freebass split had "tipped me over the edge ".
"I hope I haven't blown a great friendship forever. Sorry Pete," he added.
(by Jason Gregory)