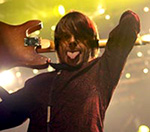 Primal Scream
bassist Mani has apologise for his
recent attack
against former
New Order
star Peter Hook.
In a post on Twitter last week, Mani accused Hook of living off his former Joy Division band mate Ian Curtis' "blood money".
His comments came in the wake of Freebass' split - a band that included both Mani and Hook.
In a statement, Mani said he wanted to "apologise unreservedly to Peter Hook and his family".
"It was a venomous, spiteful reaction to a lot of things that are going on in my life right now and I chose to vent my frustrations and anger at one of my true friends in this filthy business, and ventured into territory which was none of my concern," he continued.
Mani added: "The Freebass thing has tipped me over the edge and became the focus of my bilious rants. Twenty-two years of being tripped up, face down in the mud and being kicked in the face with an iron boot will do that to the most stable of men. I hope I haven't blown a great friendship forever. Sorry Pete."
Mani's Twitter account account has since been removed.
Freebass, which also feature Andy Rourke, had been expected to release their long-awaited album 'It's A Beautiful Life' later this year.
(by Jason Gregory)