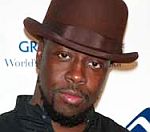 Wyclef Jean
has spoken out after he received death threats over his decision to
stand as president of Haiti
.
The former Fugees rapper announced earlier this month that he intended to take part in November elections.
But his decision attracted criticism, including from his former bandmate Pras Michel and Hollywood actor Sean Penn.
And on Wednesday (August 19) it was confirmed that Jean had received threats to his life, with one person telling him to "get out of Haiti".
"In the past couple of days we have received a few death threats," Jean said at a press conference yesterday.
"Just for our safety we came to an area where we feel is secured - that is my town. We're in an area where we're comfortable, the area where we were at before, we weren't comfortable.
"We know this situation we've embarked on, death threats come with the territory. But beyond that it's not about all those negative information (sic)."
Jean is one of more than 30 people who have filed to become a presidential candidate, BBC Newsbeat reports.
Haiti's next president will be faced with the task of continuing the efforts to rebuild the country following the devastating earthquake in January.
(by Jason Gregory)