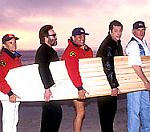 The Beach Boys
have threatened to sue
Katy Perry
over the lyrics in her smash hit summer song 'California Gurls', it's been reported.
The band's record label Rondor claim the band should be given a writing credit because Perry's song includes a lyric from their 1965 hit, 'California Girls'.
The line - "I wish they all could be California Girls" - is rapped by Snoop Dogg in Perry's version.
A source told the New York Post that Rondor had written to Perry's label Capitol, and said the label was also seeking a portion of royalties from the song.
The original 'California Girls' was written by Beach Boys by Brian Wilson and Mike Love.
Love recently told Billboard that he was a fan of Perry's version, adding: "I think it brings the Beach Boys' 1965 classic to mind, that's for sure."
Perry's song is taken from her upcoming album 'Teenage Dream', which is released on August 30.
(by Jason Gregory)