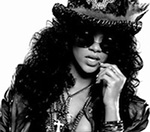 Rihanna
dresses as
Slash
in the video for her new single 'Rockstar 101'.
The song, which also features the guitarist, is released this summer.
In the video, Rihanna pays homage to the former Guns N' Roses guitarist by wearing a long curly wig and top hat.
Slash told MTV that he was asked to appear in the video but was too busy.
"The video is way better with her being me than with me being me," he added.
Blink-182 drummer Travis Barker can also be seen posing with the singer in the four-minute clip.
Rihanna is currently on the UK and Ireland leg of her 'Rated R' tour.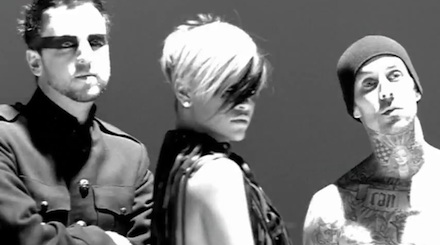 Rihanna is joined by Blink-182's Travis Barker in the video for 'Rockstar 101'
(by Jason Gregory)