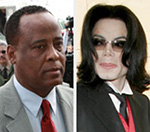 Michael Jackson
's former doctor has resumed work, just days after
pleading not guilty
to a charge of involuntary manslaughter over the singer's death.
Dr Conrad Murray was bailed for $75,000 - a quarter of the sum prosecutors originally requested – at a court hearing in Los Angeles on Tuesday.
A judge must now decide if the case is to go to trial, where, if convicted, Dr Murray could face up to four years in prison.
His spokesperson said he is set to operate out of a new practise in Las Vegas – the location of which will remain private.
Dr Murray, who was working with Jackson ahead of his ill-fated comeback gigs, also currently works out of a clinic in Houston.
Under the conditions of his bail, Dr Murray can continue practising medicine, but his prohibited from administering certain drugs.
The list of banned substances includes Propofol, which was one of the drugs blamed for Jackson's sudden death last June, reports the BBC.
Dr Murray is due to appear in court again in Los Angeles on April, 5.
(by Jason Gregory)