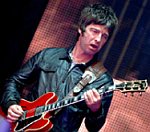 Former
Oasis
guitarist Noel Gallagher has asked to appear in court in Canada at the sentencing of a man charged with assaulting him.
Danny Sullivan, 48, attacked Gallagher on stage as the band performed at the V Festival in Toronto in September 2008.
He pleaded guilty in November to assault causing bodily harm.
According to local newspaper The Star, Gallagher wants to read his victim statement in person at a sentencing hearing.
But Sullivan's defence lawyer called for the judge to turn down the request, arguing that it would allow Gallagher to "control the proceedings".
John Collins also claimed that the case had gone on too long and caused Sullivan and his family "significant emotional distress".
Court has now been adjourned while a suitable date at which Gallagher can appear is organised.
The guitarist, who sustained three broken ribs in the attack, has since left Oasis and is on the verge of launching a solo career.
(by Jason Gregory)