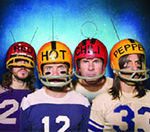 Josh Klinghoffer has been unveiled as the new
Red Hot Chili Peppers
guitarist by one of the band's leading fan sites.
A posting on Stadium-Arcadium.com confirms that the 30-year-old will replace long-serving guitarist John Frusciante, who announced his departure last month.
An editor of the site wrote: "I've managed to establish contact with Josh through the previous owner of Josh-Klinghoffer.net, Katrina, who has personal contact with him, and was able to get him to reply to an e-mail asking if he was in the band. He confirmed that he is in the band earlier today! Stadium-Arcadium.com now has direct contact with Josh and will be able to bring you updates from him personally in the future!"
It's expected that Klinghoffer will make his live debut with the band on January 29 at a MusiCares show in honour of Neil Young.
Kilnghoffer, who toured with the Chili Peppers in 2007, has worked as a studio musician with an array of acts including Beck, The Butthole Surfers, Neon Neon, Sparks, Gnarls Barkley and PJ Harvey.
He also formed the band Ataxia in 2004 with John Frusicante and Fugazi's Joe Lally and performed with The Bicycle Thief at the turn of the millennium.
(by Scott Colothan)