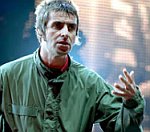 Liam Gallagher has admitted that his new band may keep the
Oasis
moniker.
The singer and clothes designer is currently working on new material with his former Oasis bandmates Gem Archer, Zak Starkey and Andy Bell and plans to release a record by next July.
Speaking to The Evening Standard, Gallagher said of the Oasis name: "We're not using it at the moment, but if we don't come up with something else by the time we're ready to release the album it'll be Oasis.
"I'm not going to call myself something ridiculous just for the sake of it. We're trying lots of new names right now, but nothing's sticking so we're just plugging on with the music. Obviously we won't be playing any of Noel's songs."
Asked whether the material will be radically different to Oasis material, Liam added: "Nah, not radical. No way, man. It's a little bit different, but not too much.
"It's the kind of music our fans have always liked, you know? But we'll see. I'm not forcing this down anyone's throats. That's not good for the soul."
(by Scott Colothan)