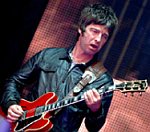 Noel Gallagher has said he
quit
Oasis
because of the "verbal and violent intimidation" towards himself and his family.
The guitarist, who announced his departure on August 28, said the situation had become "intolerable" and forced him to "seek pastures new".
In a message on his tour blog, Noel also claimed he had received a "lack of support and understanding from my management and band mates".
He is thought to have taken the decision to leave Oasis after relations with his brother, singer Liam, soured beyond repair.
The pair, who formed Oasis in 1991, are reported to have been involved in an altercation before the Rock en Seine festival in France yesterday.
The band pulled out of their headline set at the event just before their scheduled slot time.
On his blog, Noel apologised to any fans who felt "let down", adding: "Apologies are probably not enough, I know, but I'm afraid it's all I've got."
He also said he was sorry for the band's cancelled headline set at the V Festival last weekend.
"I was match fit and ready to be brilliant. Alas, other people in the group weren't up to it," Noel wrote.
He continued: "In closing I would like to thank all the Oasis fans, all over the world.
"The last 18 years have been truly, truly amazing (and I hate that word, but today is the one time I'll deem it appropriate). A dream come true. I take with me glorious memories."
The guitarist added: "Now, if you'll excuse me I have a family and a football team to indulge.
"I'll see you somewhere down the road. It's been a fuckin' pleasure. Thanks very much. Goodbye."
The Gallagher brothers have endured a fractious relationship since Oasis formed in Manchester 18 years ago.
But, despite their differences, neither Brother has ever formally announced their departure.
(by Jason Gregory)