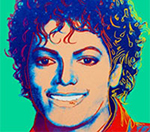 Andy Warhol's 1984 portrait of
Michael Jackson
has sold at auction for over $1million.
The auction took place at The Vered Gallery in Long Island, New York with the painting going to an anonymous bidder.
The gallery has remained tight-lipped about the exact price, but it was confirmed that the portrait sold for in excess of $1million (£600,000 approx).
Warhol painted the 76cm x 66cm piece to celebrate the phenomenal success of Michael Jackson's defining album 'Thriller'.
(by Scott Colothan)