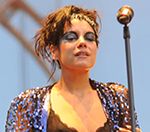 Lily Allen
broke down in tears at a festival in Finland last night (August 16), complaining she was suffering from a back injury.
The singer told the crowd at Flow Festival in Helsinki that she had had a pain-killing injection shortly before coming on-stage and that she was " feeling emotional."
Before bursting into tears, Lily said: "I feel a bit emotional tonight and if I cry it's not because of you but because of me."
Writing on Twiiter earlier that evening, she said: "Fell over badly last night and I've really fucked my back up. Just had an injection in my bum. How am I gonna get through tonight's gig?"
(by Scott Colothan)