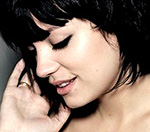 Lily Allen
has defended
X Factor
contestant
Cher Lloyd
over a series of Twitter posts.
The London singer spoke up for Lloyd after News of the World showbiz editor Dan Wootton launched a series of attacks at the 17-year-old saying that she will be "begging to be written about in a few months".
Allen wrote to Wootton over Twitter: "You're a grown man for christ's sake. she is essentially a child. Give the poor thing a break, I imagine she gets enough s*it from kids her own age,grown ups need not pile in. So she's going through a phase,give her a break (sic)."
Wootton hit back: "She's not a "poor thing", believe me. Do you have an opinion on her? She wants to be treated like an adult. What I'm doing. She's going to need support from the press."
Allen replied: "not really. I think she's a kid, eventually she'll find her feet and learn from her mistakes. I do think it quite strange, that someone your age would be so affected by a teenager. she's really not hurting anyone."
Meanwhile, Lily Allen has said she feels "embarrassed" by a new TV documentary which follows the launch of her clothing store, Lucy In Disguise.
(by Holly Frith)