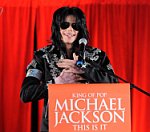 Two planned
Michael Jackson
tribute concerts, which had been scheduled to take place in London later this month, have been abandoned, it's been reported.
Organisers had hoped to stage the two shows on August 29 and 30 at the O2 Arena – the same venue which would have held the late singer's comeback tour.
But the concerts have now reportedly been postponed after deals with potential performers were not finalised in time.
"If they ever happen, it will not be until next year," a source told The Times newspaper.
"We didn't want to rush out something that was sub-standard — we would rather wait until we have got the best possible people."
Justin Timberlake, Leona Lewis and a number of Jackson's family members have been linked to the tribute events.
The reports come less than 24 hours after plans for an official Michael Jackson memorial concert in Vienna were announced.
(by Jason Gregory)