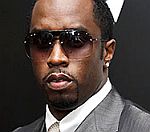 P Diddy
has revealed
Michael Jackson
made a surprise visit to one of his parties just to meet
Beyonce
.
The rapper spoke about the event during an appearance on The Late Show with David Letterman last night (July 23).
P Diddy was asked by the talk show host to explain the story behind a picture he had posted on Twitter which showed Jackson with his arm around the rapper.
P Diddy said the image had been taken shortly after Jackson arrived at the party six years ago.
He told Letterman: "Security they come over to me and they say, Mr Coombs: 'Mr Michael Jackson is here to see you'. I'm like, 'Get out of here'.
"So I go over, I find Mike and I'm like: 'Mike what's up, what you doing here? Thanks for coming'.
"So I get him a booth, we go to the booth, we start chit-chatting. (Pointing To The Picture) So you can see he's got his arm around me, but then you don't see the shot of him whispering in my ear.
"Right after the shot was taken he whispered in my ear: 'Where's Beyonce?'
P Diddy added: "He came to the party to holla at Beyonce. This was before (Beyonce began dating) Jay-Z though.
"He came to the party to holla at Beyonce, finds her and dances with Beyonce at the party. Mike was smooth J."
(by Jason Gregory)