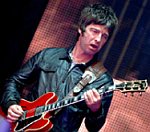 Noel Gallagher has claimed his brother Liam lost his temper during
Oasis
' gig at the Roundhouse last night because he was on his "man period".
The singer stormed off stage at the London venue after members of the audience threw beer at him.
Liam told the crowd he hoped they felt "as uncomfortable as I do", before returning to complete the show.
Writing about the incident on his blog, Noel wrote: "What'siz'name exploded with pretend rage the minute he walked on. Strange cat. Probably on his man period.
"Saying that, it was a full moon'n'all. Didn't notice him getting any more hairy though.
"Mind you, those that were there seemed to enjoy it, so..y'know, onwards and sideways."
The guitarist described the gig as "very odd" and revealed he didn't stay for the after show party because he "couldn't be arsed".
"Too many squares for my liking," he added.
TV presenter and friend of the Gallagher brothers, Tim Lovejoy was among the audience last night.
(by Jason Gregory)