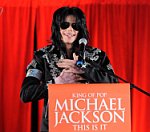 Randy Philips, who was responsible for booking
Michael Jackson
's ill-fated This Is it concerts, has outlined plans to hold a memorial concert on the singer's birthday.
Philips told BBC 6 Music he was "confident" plans could be finalised this week in order for the event to take place in London on August 29.
"The number one item I'm discussing is presenting This Is It the production, hopefully with the Jacksons and maybe Janet, and other artists," Phillips said.
"We have to make some hard decisions this week otherwise it will be too late to even contemplate doing anything on 29th."
The promoter said he was hopeful that the event could take place at the O2 Arena, which was due to hold Jackson's 50 comeback concerts.
"What we're thinking about is one massive tribute that's broadcast around the globe," he said.
"We've opted to go to broadcast television, either cable/satellite, or traditional broadcast."
Hundreds of Jackson's fans descended on the London venue yesterday on the day the singer was due to begin the concert run.
Many chose to add messages to the venue's tribute wall, while other shared their Jackson memories with each other.
The This Is It concerts would have marked the singer's first full tour since his 1996/97 HIStory jaunt.
Jackson died on June 25 in Los Angeles following a suspected cardiac arrest.
(by Jason Gregory)