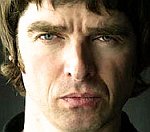 Oasis
guitarist Noel Gallagher has ruled out giving fans refunds after their concert at London's Wembley Stadium last night was interrupted by sound problems.
The venue's main audio cut out as the Manchester band played 'Wonderwall', although the crowd continued to sing to the song.
The problem comes just weeks after Oasis fans who attended a concert in Manchester were offered their money back because of technical difficulties.
"Can I just categorically say no-one is getting their money back," Gallagher told fans at Wembley last night.
The guitarist then pointed at individual members of the crowd, and said: "Not you, not you, not you in the glasses.
"No one with glasses is getting refund."
Gallagher is also understood to have asked fans for jokes while power was restored - although he said any about the late Michael Jackson were "out of order".
Oasis return to Wembley Stadium for two more concerts on Saturday (July 11) and Sunday (July 12).
(by Jason Gregory)