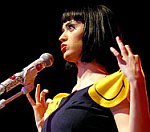 Katy Perry
has accused
Beth Ditto
of being "tacky" after the
Gossip
star
launched a scathing attack
against the singer.
Ditto hit out at Perry in an interview with Attitude magazine, in which she said the star's hit single 'I Kissed A Girl' was "offensive to gay culture".
She described the track as a "boner dyke anthem for straight girls who like to turn guys on by making out or, like, faking gay."
Speaking to thelondonpaper, Perry said: "I heard that she said something about me.
"I don't want to get into a slanging war with anybody so I don't want to say anything bad about her. But I'm not impressed.
"I've learnt in the past year that one artist should never insult another artist's music - it's tacky. And with me, it always comes back to bite me on the ass!"
(by Jason Gregory)