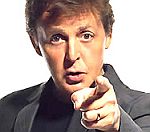 Sir
Paul McCartney
has reportedly written a letter to Pamela Anderson in which he asks the former Baywatch actress to help the battle against climate change.
The two-page document, which appears to be signed by the former Beatle, has been published by The Sun newspaper.
The letter focuses on the FAO's 2006 diagnosis that reduced meat consumption or vegetarianism is the "single most effective" way to tackle global warming.
It states that a reduction in consumption would also help stabilise food prices on the global food market.
"Unfortunately, with higher incomes, societies, even in the developing countries, are turning to greater and greater consumption of animal proteins, which reduces the availability of food grains for direct consumption by impoverished human beings," the letter says.
Sir Paul McCartney has supported vegetarianism actively for thirty years.
He is reported to have written directly to Anderson as a result of her loyal support to the animal rights group PETA.
(by Jason Gregory)