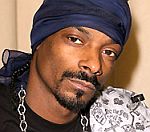 Snoop Dogg
had denied hitting a fan who claims he was "left for dead" by security at one of the rapper's concerts.
The rapper, whose real name is Calvin Broadus, told jurors he had returned to his tour immediately after the concert in Seattle in 2005.
Richard Monroe, who is seeking compensation, claims he was struck by a microphone after the rapper called fans on stage.
In court on Friday, he described the alleged attack as "brutal", adding: "I was really in shock. I couldn't believe it."
But lawyers for Snoop Dogg argue Monroe was wrong to take the stage and that security had reacted because they believed the rapper was being attacked.
In court yesterday (April 27), Snoop Dogg said: "The best way for the injuries not to have occurred was for him to stay in his seat and enjoy the show like the rest of the fans."
The rapper's account of the alleged incident, which was captured on video, was contested by Monroe's lawyers.
(by Jason Gregory)